Description
Online Swimming Pool Leak Detection Training Course
Train to perform swimming pool leak detections on your own schedule without the cost of travel. Learn on your own device in your own time frame.  Our Online Leak Detection Training Course covers all the same instruction as in our Hands-On Leak Detection Training Course and you've got Forever-Access to the training modules. If you need a refresher, just log in and review any and all of the online training information at any time. Also, you can count on the industry's best customer service. have a question? Can't find a leak? Just call, we'll walk you through it.
Also included in our extensive training course, you'll learn:
Key details of Customer Psychology
Taking The First Call And Getting The Job
Conversions From leak Detections To Repair
Safety Recommendations For Healthy Pools
How To Accurately Find a L

eak

 In The Pool Shell
Thorough Static Testing Practices
Understanding Structural Cracks
Locating Leaks Within Lines
Proper use of the F.L.A.S.H. System
Using Camera Technology To Aid In L

eak

 D

etection

And so much more!
Read complete details here: ONLINE POOL TRAINING
---
The Pro Complete Kit
LeakTronics Pro Complete offers a complete leak detection kit that features the Phantom Powered LTl000 Amplifier, the heart of all LeakTronics kits. The Pro Complete Kit includes a multitude of add-ons that offer more versatility in your leak detecting. This includes a pressure testing kit, a deck plate, the multi-purpose pipe probe with extension and a Video Scope with dye injector that allows the user to see in lines, light niches, deep skimmer throats and other hard to reach places.
The Pro Complete Kit is used throughout the swimming pool industry on concrete, gunite, fiberglass, composite and vinyl liner applications. It includes everything you need to perform professional swimming pool leak detections.
---
Hand Held Video Pro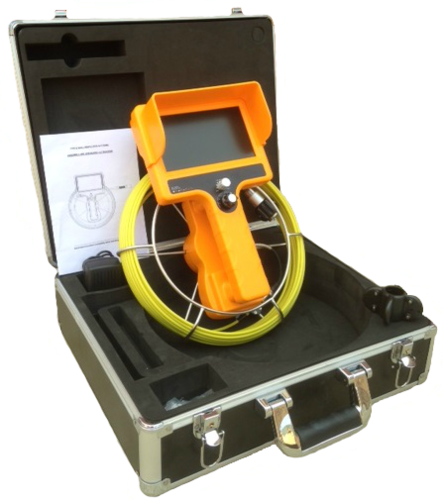 The Hand Held Video Pro and Line Locator is one of  the best visual aids of the LeakTronics arsenal. It offers high resolution sight in pipes ranging from l 1/2 inches to 12 inches in diameter. The Hand Held Video Pro can be used on a straight run in a l 1/2 inch line (no guide) and can also be maneuvered in 2 inch to 60 inch lines ( with guide). Along with the included dye injector, the Hand Held Video Pro locates blockages and leaks with ease. Experienced technicians may also use the Hand Held Video Pro with line flushing or line pulling.
---
F.L.A.S.H. Add On
LeakTronics Patented F.L.A.S.H Leak Locating System identifies leaks from within lines and transmits a signal at the precise location of the leak. The F.L.A.S.H. unit can be used to locate leaks and pipe separations in swimming pools, plumbing, HVAC and gas lines, water mains, sewer and a multitude of other applications. It can be used in lines ranging from l to 60 inches in diameter.
---
F.L.A.S.H. Receiver
The F.L.A.S.H. Receiver contains state of the art sensors which receive signals from the Hand Held Video Pro or from the F.L.A.S.H. Leak Location System. It can pick up the 512hz signal under concrete, dir t, rock, soil and water. The analog meter and external speaker allow users to pinpoint the area where the camera head or FLASH mic is located and helps avoid unnecessary digging to find lines.
---
Multi Purpose Soil / Pipe Probe
The LeakTronics Multipurpose Soil / Pipe Probe is one of the most multifaceted tools in the leak detection industry. TheMulti-Purpose Pipe Probe is the result of combining a soil probe and a magnetic contact mic into one versatile tool and is one of the most versatile tools in the LeakTronics Equipment Line.