Description
Plumbers Pro Equipment Bundle
Online Plumbing Leak Detection Training
Train to perform plumbing leak detections at your convenience from your location.  Our 

Online

Plumbers Leak Detection Training Course covers all the same great curriculum as in our Hands-On Leak Detection Training Course which includes, but is not limited to:
Customer psychology
Taking phone calls
The important differences between metal and plastic plumbing
Arriving on Site & Initial Walk through
Commercial versus residential Leak Detection
Overview of the tools and their effective use
Locating leaks within lines
Proper use of the FLASH System
Using camera technology to aid in 

leak

 

detection

Line Locating and Tracing
And so much more!
Plumbers Kit
When pipes leak, water rushes out at the point of the leak and into the surrounding area. The pressure of the water trying to leak out of the pipe causes vibrations at the point of the leak which are carried throughout the pipe and are heard with the components included in the Plumbers Kit. Leaking pipes also cause vibrations through the ground to the earth's surface where they manifest themselves as ground noise.
Hand Held Video Pro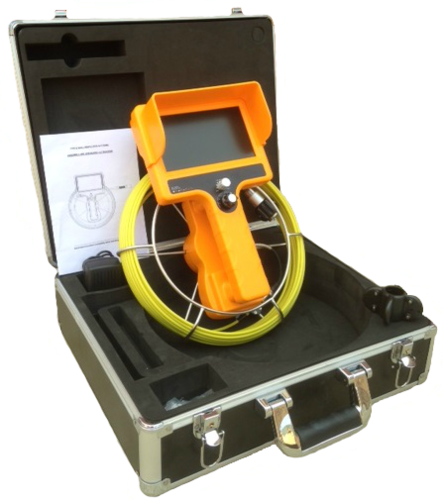 The Hand Held Video Pro and Line Locator is one of the best visual aids of the LeakTronics arsenal. It offers high resolution sight in pipes ranging from 1.5 inches to 12 inches in diameter. The Hand Held Video Pro can be used on a straight run in a 1.5 inch line (no guide) and can also be maneuvered in 2 inch to 60 inch lines (with guide). Along with the included dye injector, the Hand Held Video Pro locates blockages and leaks with ease. Experienced technicians may also use the Hand Held Video Pro with line flushing or line pulling.
F.L.A.S.H. Add On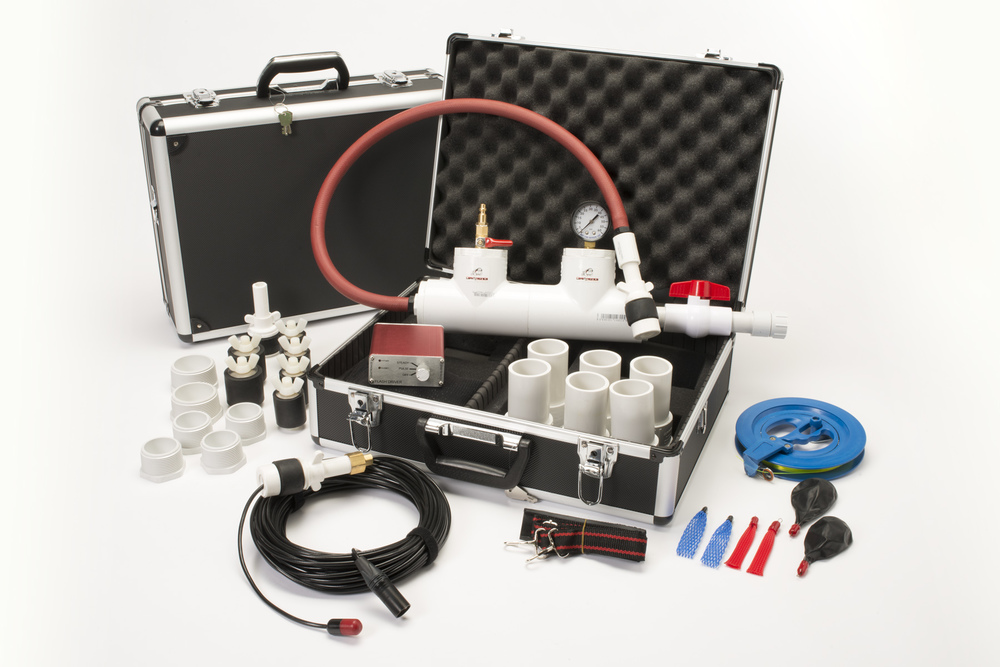 The F.L.A.S.H. unit can be used to locate leaks in swimming pools, plumbing, HVAC, gas lines, water mains, sewer and many other pipe lines with pinpoint accuracy. It can be used in lines ranging from 1 to 60 inches. The LeakTronics FLASH can also be used for underground line location.
F.L.A.S.H. Receiver
The F.L.A.S.H. Receiver contains state of the art sensors which receive signals from the camera or from our F.L.A.S.H. pipe leak locator. It can pick up the F.L.A.S.H. transmitter under concrete, dirt, rock, soil and water. It's analog meter and external speaker allow you to pinpoint the area where the camera head or F.L.A.S.H. mic is located. DO NOT LEAVE IN DIRECT SUNLIGHT.
Pulse Add-On
The Pulse Generator Add-On applies an acoustic method which transmits a mechanical vibration throughout the pipe that is being located. When attached to a pressure line and the Pulse Generator is sending it's vibration, the LT1000 and Pipe Probe are used to precisely locate the loudest signal under soil, grass, landscape, concrete or asphalt.